Association
Léo
In January 1999 in Bamako, Mali, Juliette Soto became aware of the abandoned, disabled orphans. The Leo charity (the law of 1901) was founded in France to support these child outcasts.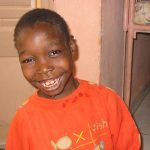 Leo is the name of the first orphan the charity started to care for; his smile became the charity's logo. Leo is now 20 years old and has been able to make progress in spite of his serious handicap.
DONATIONS / SPONSORSHIP
Thanks to the good will of many people, the children are making improvements now they have the benefit of uninterrupted medical care. The children who are able to communicate let us know they appreciate and are touched by the comfort we are providing to them, for those who are more heavily handicapped, we do our best to make their life less difficult.
Thank you for supporting us. Without you, nothing would be possible.
Our objectives
What are the charity's objectives?
To improve conditions for the lives of handicapped orphans in Bamako. They suffer from the double exclusion of being both orphans and handicapped.
The charity provides financial assistance to care for and educate them: the children are making improvements and they have the benefit of medical care. We have been caring for some children since 1999, others, sadly, have had only short lives.

Serving handicapped orphans
We prioritise the interests of handicapped orphans in dealing with the Malian authorities and local partners to improve their care and plan for their future.

Care and Education
We pay for medical care, neurological and orthopedic consultations, therapy, schooling, play and teaching activities.

Donations/ Sponsorship
You can support our activities with handicapped orphans by completing the donation or sponsorship form.